NEW COLOR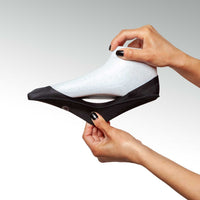 Women's Secret Ultra Low-Rise Socks
$12.00 USD
$12.00 USD

ON

Sale

• OFF
Newly Upgraded. Check the New Size Chart.
Want to wear socks with heels and socks with ballet flats that are so low they don't fully cover your toes?
Our Secret Ultra low-rise socks are the lowest coverage socks on the market, and they miraculously stay on comfortably all day.
Rise: Ultra Low
Weight: Ultra Light
Great for: Heels and ballet flats that only partially cover your toes
People Also Ask
What is the difference between low-cut and ankle socks?
Low rise socks typically fall below the ankle. Sheec's low-cut no-show socks cover just the toes and heels while leaving most of the foot exposed, making them perfect for low-coverage ballet flats. Ankle-length socks are a higher-coverage option, covering the entire foot and ending right at the ankle bone.
Shoes with smooth or suede linings require thin silky socks for your feet to go in easily and stay comfortable all day long.
They are also handcrafted to provide comfort and use patented technology to ensure that they stay on.
These low-cut no-show socks will snugly hug your feet but you'll never feel a single stitch or seam.

KEY FEATURES:
Stay-put Toe Grip
Non-slip Heel Grip
Non-skid Sole Grip
Terrycloth Cotton Sole
Durable Nylon
Seamless Edge
Inverted Stitching
SoleHugger Technology
44.3% Cotton, 30.5% Polyester. 15.5% Nylon, 9.7% Polyurethane
Machine wash cold on the gentle cycle. Hang dry
Origin: Vietnam
💖 Sheec Product Reviews 💕